Events for May 9, 2017
Day Navigation
9:30 am
On the second Tuesday of each month, the Clinton public Library is closed until noon for a staff meeting.
Find out more »
3:30 pm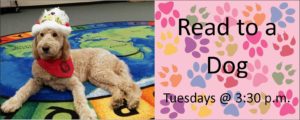 Tuesdays from 3:30 to 4:30 p.m. Come meet a real, live dog! Children can practice their reading skills by reading to her—she won't judge. Feel free to stop by just to pet her and say hello.
Find out more »
5:30 pm


May 1st or 9th at 5:30 p.m. Any teens wishing to volunteer for the summer reading program must attend one of these orientations. Teens must be 13 years old to volunteer, and a parent or guardian must accompany them to the orientation.
Find out more »
+ Export Events